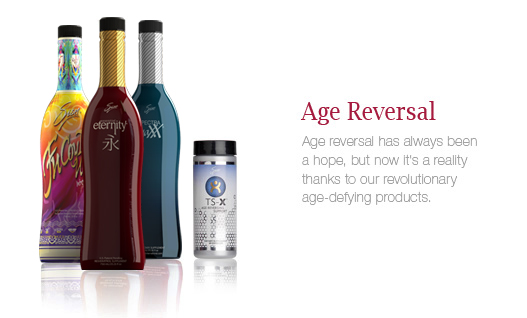 TS-X
Telomere Support Xtreme


Powerful support for telomeres. This is your advanced, botanical, DNA-level support to fight aging and make your body feel and act young!

Incredibly affordable telomere support—the kind of support others might pay hundreds or thousands to get!

TS-X was developed after Harvard-affiliated scientists discovered that old-aged mice injected with the telomere-supporting enzyme, telomerase, experienced a renaissance of youth! The mice that had been struggling with all sorts of age-related health issues enjoyed dramatic new support for their health. They looked younger. They acted younger. Their bodies tested as younger!

READ AND SEE MORE HERE:

See the press release announcing the Nobel Prize in Physiology or Medicine for the discovery of "how chromosomes are protected by telomeres and the enzyme telomerase."
For PDF link click here.

Support Your Telomeres

Telomeres are compounds that cap the ends of the 23 pairs of chromosomes in every human cell, and their function in the body appears to be protecting the DNA in those chromosomes and the chromosomes themselves from fraying and damage. Our bodies manufacture the enzyme telomerase, which keeps telomeres strong. But as we age, we produce less telomerase, resulting in the telomeres growing shorter. As they shorten, it's like a clock counting down in our bodies: shorter telomeres means more fraying on the strands of DNA and chromosomes, and it results in—as scientists speculate—aging.

How Many Telomere Units You Have As You Age

This is the approximate loss of telomeres over the course of a lifetime:

Conception: 15,000 units

At birth: 10,000 units (a loss of 5,000 units)

At death: 5,000 units (a loss of another 5,000 units over the course of a lifetime)

Our Power-Packed Formula

TS-X levels of effective ingredients are in higher concentrations than telomere products we know of on the market sold by physicians. Astragalosides in TS-X are approximately at 30% more concentrated levels and bacosides are approximately at 50% higher levels. We have also enhanced the formula with complementary botanicals and an antioxidant complex to shield telomeres against oxidation from free radical hotspot attacks, making TS-X the premiere product on the market!

Feel Younger Than You Ever Have!

The arrival of Sisel's TS-X represents quite possibly one of the most amazing developments in the history of anti-aging science! Get your TS-X before anyone else.  It's time to get serious about longevity—order your TS-X today!

> Learn More
Eternity 750ml

 Activate dormant genes for:

More youthfulness and longevity

Exuberant health and vitality

Massive energy that lasts all day

Incredible weight loss support

An intensely concentrated, synergistic blend of resveratrol and three essential key ingredients in a variety of macro- and nano-sized nutrients for amplified bioavailability and vitality. This life-enhancing, highly potent liquid supplement may be the most significant factor ever discovered in the history of human health for promoting youthful vitality.

It's the power to feel young again. To feel energized and fit. To feel like you woke up to a new era of health and vitality. Supplement your diet with the biology-activating potential of resveratrol and other red-wine polyphenols to support-

Energy

Healthy weight management

Vibrant health and energy

Natural genetic processes

Scientists around the world are embracing the theory that free radicals and oxidation are the main cause of aging. Sisel has taken gigantic steps forward in this area of youth-enhancing and age-defying skincare. This innovative science has improved the outward appearance of hundreds of eager people wanting to look younger. In harmony with science, Sisel now looks to Resveratrol for internal support with powerful antioxidants that not only fight free radicals, but also activate an anti-aging gene that looks promising as a key to life extension.

Scientists have discovered that when calories are restricted, a gene is activated that impacts age against cell death while promoting a longer, healthier life.

Scientists worldwide recognize that oxidative free radicals are virulent in damaging cellular DNA, making it difficult for correct DNA duplication. Science shows that Resveratrol is one of the best free-radical scavengers available. These studies indicate that Resveratrol not only supports longevity by gene activation, but also imparts DNA protection in several body systems. The cardiovascular system, nervous system, and immune system functions all seem to be improved by Resveratrol. It has also been shown to modulate normal inflammatory response.

It is a known fact that only high amounts of Resveratrol actually deliver impressive benefits. Sisel Eternity is one of the most powerful Resveratrol supplements. Sisel uses nanotechnology to make each ½- ¾ ounce serving of Eternity up to 250 times more available than encapsulated Resveratrol.

Sisel Eternity is unlike any other Resveratrol supplement. In addition to significant amounts of Resveratrol, Sisel Eternity contains a potent energy blend made from Brazilian Cha-de-Bugre and grape skin, green tea, and green coffee bean extracts. In addition, it contains a potent antioxidant blend of pomegranate, plum, and raspberry concentrates.

Sisel formulates some of the most potent and effective anti-aging products available. You are only as young as you feel. Sisel Eternity offers huge benefits for helping you look and feel younger faster. Make your anti-aging program complete with the addition of Sisel Eternity. Start living better, longer today with Sisel Eternity.

> Learn More
SpectraMaxx 750ml

SpectraMaxx fills in the gaps found in our modern diets by providing the broadest spectrum of antioxidants and trace minerals ever contained in a single bottle. By combining the incredible ingredients of Spectra AO and SupraMaxx into a powerful supersaturated formula, Sisel has created the world's first megatonic.

> Learn More
FuCoyDon Intensified

FuCoyDon is an extremely potent, bio-available, restorative, liquid super supplement which researchers proclaim may be the greatest source of support for intensive regeneration at a cellular level. It contains a remarkable natural enlivening invigorator, Limu Moui extract, in a fortified patent-pending formula to make it extremely powerful! It includes three types of fucoidans: U, F, and G. Over 800 studies from the U.S. National Institute of Health show that fucoidans intensely support increased energy, enhanced immunity, and normal hormonal, glucose and circulatory functions throughout almost every system in the human body.

Limu Moui is a power-packed sea vegetable that has been eaten for thousands of years in Tonga, Japan, and other coastal areas. Because the nutritive value is great, these remarkable plants were used to regenerate and increase well-being. In many cases, science is supporting some of the traditional uses of limu moui.

Research on this remarkable sea plant directed Tom to two places in the world – Okinawa, Japan and Tonga. Those who regularly include this food in their diets enjoy sustained levels of health. 1 In this era of increased health concerns, often related to poor nutrition, it makes sense to turn to the bounty of the sea.

In Okinawa, Japan, limu is called mozuku. There, seaweed is harvested from their own coastal waters. However, to supply Japan's huge demand, Tongan limu is also valued. The Japanese people understand the extraordinary therapeutic value of Tongan seaweed. They know that limu moui grows abundantly in Tonga's perfect climate and in some of the most pristine waters in the world.

Investigation shows that limu moui contains significant concentrations of the active component, fucoidan. Fucoidan is a complex polysaccharide (sugar) and is the subject of over 900 scientific studies listed in the National Library of Medicine's PubMed database. These and other studies reveal the amazing regenerative properties of fucoidan that affect nearly every system of the body. Fucoidan research is catching worldwide attention. Articles on fucoidan's miraculous benefits are appearing in authoritative medical journals.

Science sees promise for fucoidan as a powerful support to the immune system. Fucoidan also enhances normal cell growth and division. Reports indicate that fucoidan supports normal liver and circulatory function. Seaweed experts believe that having a daily dose of seaweed sustains healthy body functions. People who eat fucoidan-rich limu moui on a regular basis report sustained energy* and feel support to the digestive system and as an aid to help support normal, pancreatic function. Many also report smooth, soft skin*. Some even believe that limu imparts beauty to those who eat it, which in turn creates a happier existence.

But limu moui is not the end of the story. To make an exceptional plant even more powerful, Tom created a patent-pending process designed to intensify SISEL limu moui. The results are remarkable. SISEL's product is unlike any other seaweed beverage in the industry. This unique intensification procedure differentiates this amazing sea beverage called FuCoyDon TM. You will love SISEL's FuCoyDon – a tasty power-pack of supportive nutrients found only in the sea. This powerful drink provides the regenerative benefits of an amazing, traditional food that is combined with cutting-edge technology. This flagship product, in time, will become a common name in every healthy household. Enjoy the beverage that launched the most successful company in the MLM industry. FuCoyDon – the tasty answer to your vital, daily dose of seaweed.

> Learn More
Essential Eternity 750ML

Essential Eternity offers the same amazing formula as original Eternity, without the energy blend. This great-tasting beverage brings you increased vitality, added cellular protection, and what may be the most significant nutrient known to slow the effects of aging—resveratrol. With high concentrations of nano-sized, 98–99% pure trans resveratrol in a patent-pending blend of quercetin, catechins, and other polyphenols, Essential Eternity may be a key scientific breakthrough in your quest for health and ultimate longevity.*

> Learn More
Sisel Splash

Sisel Splash is a light, refreshing enhanced water product infused with the power of our advanced resveratrol formula. Only 3 grams of carbs, and the crisp, sweet combination of real pomegranate, natural agave nectar, and pure stevia.
I personally use and love all of these amazing Anti-Aging products.  I am 66 years old and I feel like I am 40!  Do something SUPER SPECIAL for yourself and your family this year!  These products can change your life and your health for the better!  Don't put this off!  It is so important to your Quality of Life!  I wish that I had known about these products when I was taking care of my Mother and Father (Alzheimers, Dementia, Cancer, COPD) and I know that their quality of life would have been so much better; they suffered so much.  Don't let this happen to you or to anyone you love!  Take important steps right now to do more for yourself and your loved ones!  I really do care!  I took care of my Mom and my Dad for almost 8 years; it was so hard when I had to watch them suffer so much.
Warmly,
Connie Clark
303-770-3180 home office
303-898-7376 mobile
http://www.behealthysolutions.com
http://behealthysolutions.mysiselpro.com